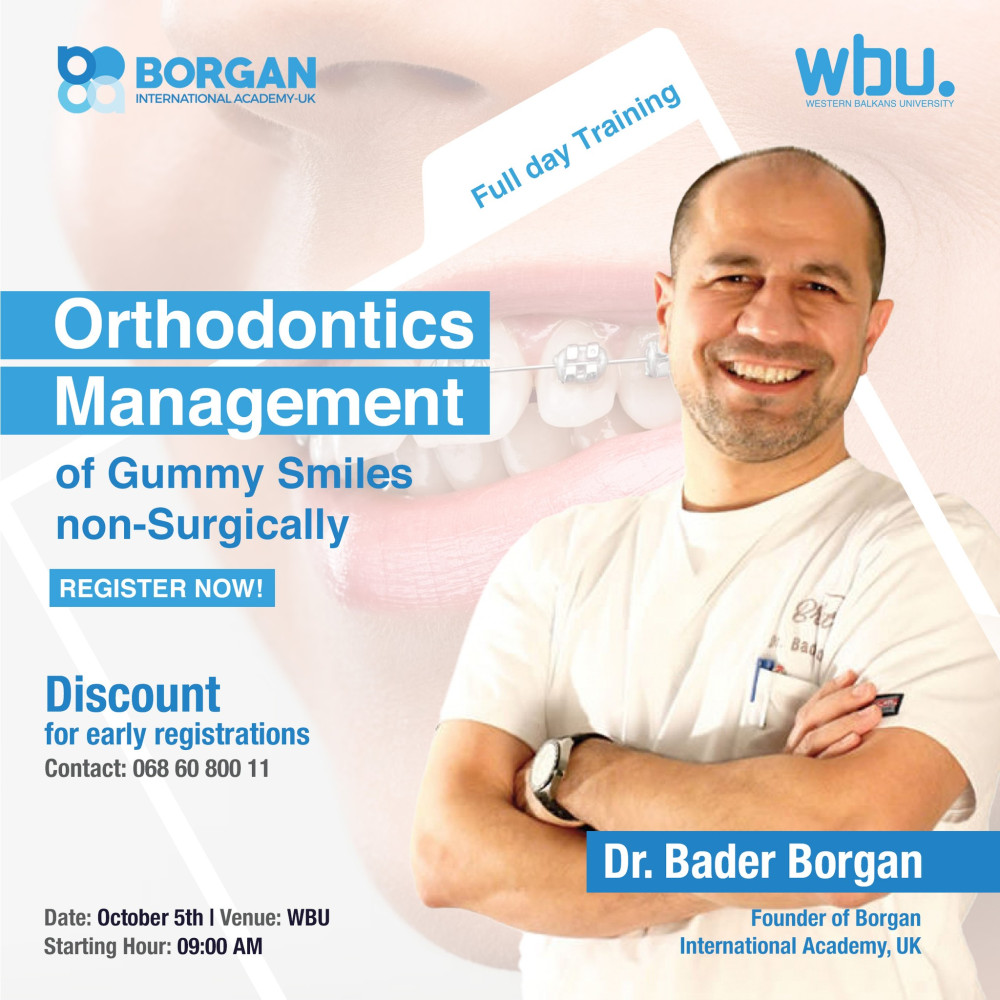 𝐎𝐫𝐭𝐡𝐨𝐝𝐨𝐧𝐭𝐢𝐜𝐬 𝐌𝐚𝐧𝐚𝐠𝐞𝐦𝐞𝐧𝐭 𝐨𝐟 𝐆𝐮𝐦𝐦𝐲 𝐒𝐦𝐢𝐥𝐞𝐬 𝐧𝐨𝐧-𝐒𝐮𝐫𝐠𝐢𝐜𝐚𝐥𝐥𝐲 is a full day training organized by Western Balkans University in cooperation with Borgan International Academy, UK.
Dr. Bader Borgan will be the main trainer. He is an internationally well-known trainer and he is the founder of Borgan International Academy in Cambridge, UK.
#Orthodontic non-surgical correction of gummy smiles can be one of the most rewarding treatments at the orthodontic practice, it is a life changing experience for the patients, and it all starts by establishing accurate diagnosis regarding the aetiology of the Gummy smile.
Doctors need to adopt a reliable diagnostic algorithm that leads to choosing the right protocol of management of a certain case, because only then will they be able to evaluate their cases in the long term.
Doctors will learn:
1. 𝑨𝒆𝒕𝒊𝒐𝒍𝒐𝒈𝒊𝒆𝒔 𝒐𝒇 𝑮𝒖𝒎𝒎𝒚 𝒔𝒎𝒊𝒍𝒆𝒔
2. 𝑻𝒓𝒆𝒂𝒕𝒎𝒆𝒏𝒕 𝒑𝒍𝒂𝒏𝒏𝒊𝒏𝒈 𝒑𝒓𝒐𝒕𝒐𝒄𝒐𝒍𝒔 𝒇𝒐𝒓 𝒕𝒉𝒆 𝒅𝒊𝒇𝒇𝒆𝒓𝒆𝒏𝒕 𝒂𝒆𝒕𝒊𝒐𝒍𝒐𝒈𝒊𝒆𝒔 𝒐𝒇 𝑮𝒖𝒎𝒎𝒚 𝒔𝒎𝒊𝒍𝒆𝒔
3. 𝑩𝒆𝒔𝒕 𝒓𝒖𝒍𝒆𝒔 𝒇𝒐𝒓 𝑻𝑨𝑫𝒔 𝑷𝒍𝒂𝒄𝒆𝒎𝒆𝒏𝒕
4. 𝑺𝒐𝒇𝒕 𝒕𝒊𝒔𝒔𝒖𝒆 𝒓𝒆𝒄𝒐𝒏𝒕𝒐𝒖𝒓𝒊𝒏𝒈 𝒓𝒖𝒍𝒆𝒔 𝒘𝒊𝒕𝒉 𝒍𝒂𝒔𝒆𝒓
The Course Highlights:
👉 Planning protocols for all of the different reasons behind Gummy smiles
👉 Learn how to avoid surgery in gummy smile cases
👉Learn how to have more control on Gummy smile cases using DAMON
System
👉Clinical Cases that cover all the range of gummy smiles aetiologies
👉In-depth discussions of various protocols
👉Laser protocols for soft tissue recontouring
👉VectorTAS, Deprogrammers: makes the impossible possible
👉How to guarantee Smile and functionally optimal occlusion
Borgan International Academy was established in 2018 with the purpose of bringing all these great activities into one advanced platform for orthodontic education.
𝐃𝐢𝐬𝐜𝐨𝐮𝐧𝐭 𝐟𝐨𝐫 𝐞𝐚𝐫𝐥𝐲 𝐫𝐞𝐠𝐢𝐬𝐭𝐫𝐚𝐭𝐢𝐨𝐧𝐬.
𝐑𝐞𝐠𝐢𝐬𝐭𝐞𝐫 𝐧𝐨𝐰!
https://forms.gle/kPjxN6EERmvboZQ5A